Graphitint Pencils from Derwent
My Rating: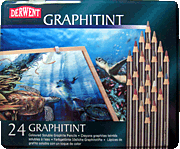 Graphitint pencils are an exciting addition to the Derwent water-soluble pencil line. They are created from a mixture of graphite and color pigments. Therefore, they have some of the characteristics of graphite. namely they can be blended and smudged, and they are erasable. When used dry they can be layered to creating different color effects. The lead is not overly soft, but has about the same hardness as an HB pencil.
One exciting thing about these pencils is that they can also be used to create washes and watercolor effects. When applied dry to paper, they have very soft hues. However, after touching them with a wet brush, the colors become very vibrant. You can create an under painting with, and then work on top with the dry pencils for more control over small details.
Graphitint pencils are available in 24 colors. These colors range from grays and blues, to greens and browns. I was a little disappointed that there was not a larger variety of colors. I suppose mixing pigment with graphite, which is naturally dark, reduces the range of colors that can be produced. That is one of the reasons I only gave them 4 Stars. The other reason is that they did not blend or erase as easily as I had hoped. However, I have combined them with watercolor pencils with good results.
In keeping with Derwent's tradition, the packaging is very nicely designed. They come in a tin featuring artwork by Stephen Ormoprod. Inside is a pamphlet with tips, and more examples of beautiful artwork created with the pencils. One thing I especially liked about the pamphlet, is it lists all the colors, and shows you how their color appears when both dry and wet. This was very useful as a reference when I was experimenting with them.
I encourage you to try Graphitint pencils, especially if you enjoy working with graphite or watercolor pencils. They are a unique product that is sure to spark creativity.